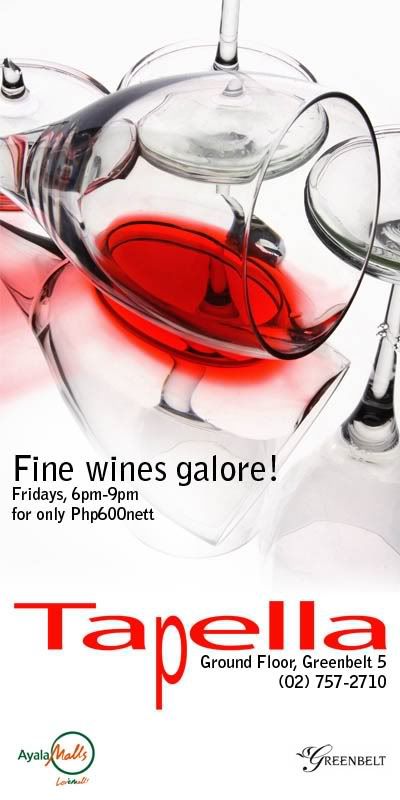 Tapas, Paella and more – this is TAPELLA by Gaudi where Spanish dining has become innovative and exciting.  Located in the cosmopolitan Greenbelt 5, TAPELLA is the restaurant where the hip generation can satisfy their demanding appetite, maintain their youthful health and enjoy time.

Top caliber Chef Alexandra G. has prepared a menu of tapas, paellas, salads, seafood, pastas and deserts in the way they are served in Spain and in servings that can fit just one or to be shared by a group.  The wine selection is from around the world valued well for money.  Many are available by the glass.  The bar list comprises the most popular cocktails and drinks.

The ambiance gives a modern and relaxed atmosphere with interiors designed with wooden chairs and tables and soothing music to complete the setting.

Every Friday, Tapella offers Wine Night from 6:00pm-9:00pm indulge in all the wines and cocktail you want for only Php600. Savor carefully selected wines from around the world or enjoy a cocktail from the wide array of drinks, canapés, tapas and more available at the bar. Relax in a cozy, modern, no-frills atmosphere with authentic Spanish music and feel like you've stepped onto the Iberian Peninsula.

For more information and reservations, visit us at Ground Floor, Greenbelt 5, Ayala Center, Makati City or call 757-2710 to 11, visit www.tapella-restaurant.com, or email inquiry@tapella-restaurant.com.