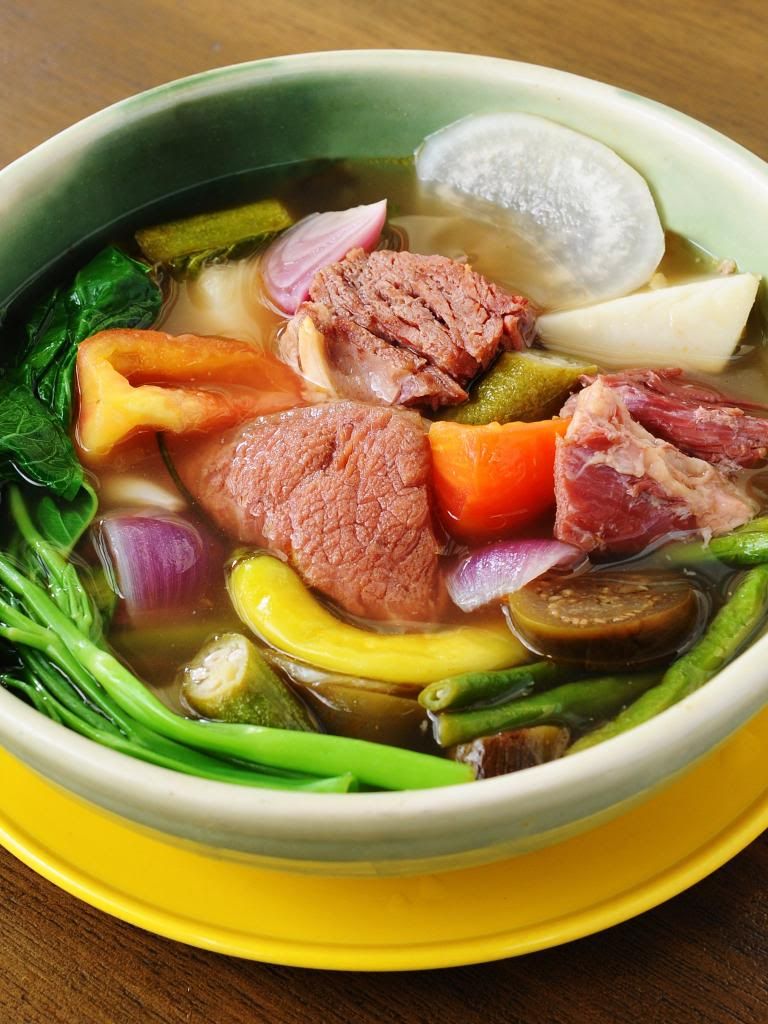 Sentro and Sinigang na Corned Beef have become synonymous. Balikbayans (returning Filipinos) and foreign visitors alike love this dish. And would you believe this famous dish is already 10 years old?!
A brainchild of Executive Chef Vicky Rose Pacheco of Chateau 1771 Group of Restaurants, sinigang na corned beef is a creative take on the popular Filipino soup, sinigang soup.
Chef Vicky was thinking how she could put into good use the excess corned beef broth, and discovered that she could make the broth into sinigang by adding sour ingredient and putting in beef cuts with sinews, fat, and bones. The result: a hearty soup, and Sentro's signature favorite dish— heartwarming, flavorful and meaty.
For the Sinigang na Corned Beef, the beef is exclusively sourced from a mix of local suppliers trusted for ten years. The pot is loaded with vegetables such as tomatoes, okra, taro corms (gabi), daikon (labanos), water spinach (kangkong), and eggplant stewed in tamarind. The broth from scratch is loaded with flavor-boosting natural spices. This is served hot and steamy.
One interesting tradition is to ask guests to sip the delicate soup stock prior serving so the sourness, saltiness, and spiciness can be adjusted according to preference–another personalized approach that this dish had built  a reputation on.
Executive Chef Vicky proved that there's more to Filipino food, especially if it's reinvented with fresh ingredients which give that unique but homey experience. If you've been craving with something like this or your curiosity has been piqued, there's no other better time than now to get to know this decade-old dish which can only originally be found in Sentro.
Sentro 1771 in Greenbelt 3 is open from 11am to 11pm (Monday to Sunday) while Serendra is from 7am to 10:00 pm (Sunday to Thursday) / 7am to 11:00pm (Friday to Saturday). For inquiries and reservations, call Sentro Greenbelt 3 (02) 757 3941 or Sentro Serendra (02) 856 0581.