Photo grabbed from http://entertainment.inquirer.net/
I hope I won't get flagged for the title of this post.
But there's a reason why I'm writing about these two topics now. As you all know, these are the hottest news about our country lately that has attracted the attention of people worldwide.
Let me start with the positive news first, the AlDub Nation. I don't need to expound further as much have already been written about Alden (aka Alden Richards) and Yaya Dub (aka Maine Mendoza of the Dubsmash fame).
Breaking all Twitter records and being picked up by CNN Philippines and BBC News Asia, and even Bloomberg, the tandem is phenomenal. CNN PH talks about how AlDub has the stirred anew the old-fashioned values of family and community. BBC NA tagged AlDub as a social media phenomenon about love and lip-synching.  And Bloomberg, being a business channel, hits on AlDub as a new disrupter in the practice of marketing. The local newspapers and online portals also have their take on the AlDub's influence on TV viewing, TV ratings, and social media explosion.
I do watch the segment every chance I get, and although I cannot call myself a fan or a fanatic, I am as amazed as everyone else by how much it has broken into the consciousness of every Filipino here and abroad. Truly, it is a phenomenon.
I talked to a friend and an avid follower of AlDub and she said something that really struck me. AlDub has no fans club. It has created fan communities (because yes in social media, you have communities). That is how the new media operates. You create communities and you organize these communities. Now, according to my friend, these communities joined by Facebook or Twitter or SMS or all three, discuss and decide what is the official hashtag of a particular episode. Once an hashtag (example: #ALDUBEBTamangPanahon) is decided, these communities start tweeting using the hashtag. The tweeting and sharing on Facebook has no time and boundary. She mentions that many of them stay until the wee hours of the morning (and I'm guessing, some don't sleep at all) tweeting to their hearts' content. So that even before Eat Bulaga airs and even after the show has stopped airing for the day, the tweets keep coming.
Very clever for the group behind AlDub! Take note for these are valuable lessons for those working with brands on social media engagement.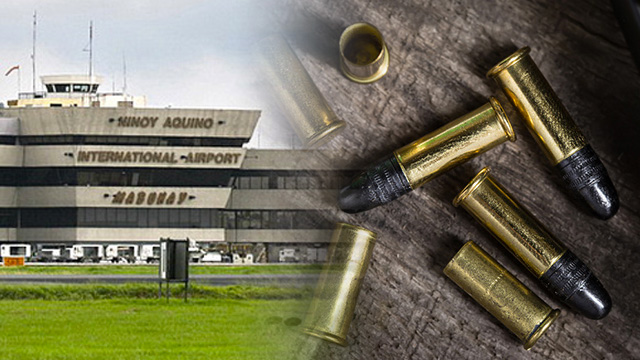 Photo grabbed from rappler.com
Just when we have put out there positive news, scalawags in uniforms are out to spoil our fun. The Laglag Bala modus operandi, aka Tanim Bala, in NAIA airports is shameful, frustrating, and stupid!
The first time it happened, Malacañang dismissed it as an isolated case. Further investigation proved, though, that the incident was a modus operandi. And just recently, the modus has exploded. Suddenly, one OFW after another returning to the country has been nabbed as bringing home bullets. These bullets are found lodged in the traveler's luggage, and often in the carry-on baggage. Who in his right mind would hand-carry and just put the bullet, an illegal item, randomly in pockets that can easily be scanned and inspected? And after one person has been caught, another person would come home bearing the same illegal item. Have these returning OFWs gone mad?
What is more frustrating is that the authorities don't seem to find an urgency to get to the bottom of this… and that is after several incidents already. Unbelievable! This incident, on the other hand, teaches us a valuable lesson on how to be stupid and play dumb!
Update
PAO opens hotline for bullet-planting victims
Two stories, although disparate, that arouse the emotions of us, Filipinos.
#itsmorefuninthephilippines
Let's stay connected, find AmOnTheStreets on Facebook.