October 19th, 2009
This photo was taken during the early days of Greenbelt 5. I think this spot is near the Rolex shop, which has yet to open that time.
The Greenbelt 5 attempted robbery yesterday was a brazen act and a real shocker. Just like the Glorietta  2 incident, my family or I could have been nearby or right at the spot where the unfortunate event took place.
According to the news, six armed men dressed in bomb-squad uniforms went to the Rolex shop and attempted to rob it. The investigation is ongoing.
Our observation is that the spot of Rolex shop is at the middle and a good walking, or even running distance, from the exits. The robbers must have really been quick to be able to leave the place and escape the authorities.
The incident shook me. The place is close to my heart because I am there almost every day of the week!
News:
1 killed, 1 hurt in mall robbery
Security lapses seen in Greenbelt 5 heist – NCRPO
Greenbelt 5, Makati City, Robbery
|
Comments
May 8th, 2008
A red light stopped our shuttle at De la Rosa corner Paseo de Roxas this morning. We were right at the back of The Enterprise building. The spot was busy with pedestrians and vehicles.
From the corner of my right eye, I saw a couple flagging down a taxi. Knowing the notorious cab drivers in the metro, who refuse passengers on a whim, I watched the scene, curious how it would go.
The guy opened the passenger door and found himself pleading with the driver. As I expected, the cab driver turned the guy down.
So whether you're a frequent cabber or not, watch out for this cab.
Commuting, Makati City
|
Comments
April 30th, 2008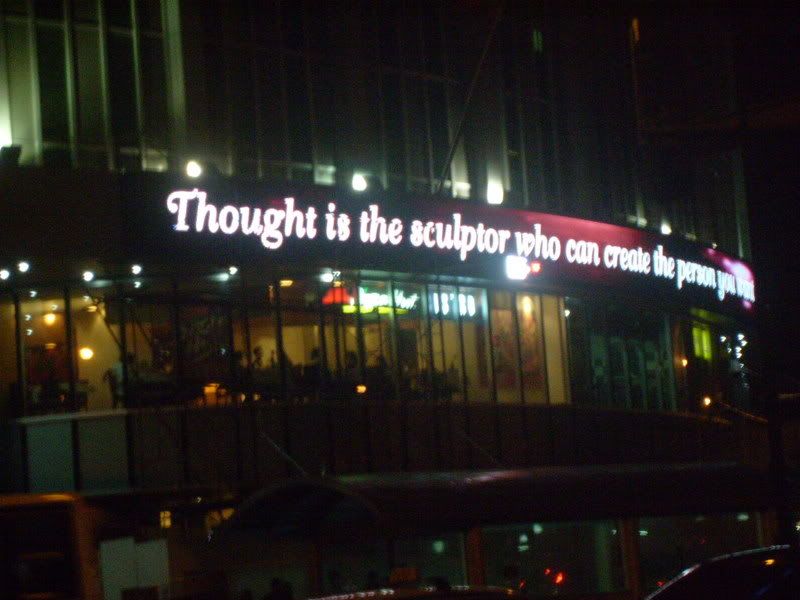 A giant electronic ticker above Starbucks Insular. That's on Ayala Avenue corner Paseo de Roxas.
I first noticed it yesterday when the shuttle I was on stopped right at the intersection. I was amused especially that it flashed only good news and inspiring quotes. These messages were mixed with ads promoting the Philippines.
This area is right at the center of Makati Central Business District. I hope it will be used wisely like a tourism campaign.
Check it out!
Billboards
|
Comments